Getting Started With Something Simple
If this is your first carving attempt, I will make a suggestion: Create a simple image that you can use over and over. Take a piece of eraser or block that is about .75 x .75 inches. Using your number 1 lino blade (or number 2, your choice), carve the following pattern (you can even do this freehand). Don't gouge the block -- you don't need to carve deeply! Start shallow. You can always remove more material if necessary, but adding material is pretty much impossible.
Pretty easy, huh? It doesn't even have to be perfect. As a matter of fact, for this purpose, a little ragged is better. Now let's create some magic. Tap your new stamp on your stamp pad and stamp the image once. Re-ink and rotate the stamp 90 degrees and stamp right next to it. Repeat, including above and below, creating a basketweave pattern. It will look like this if you use two different ink colors.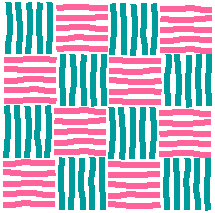 This image makes a terrific background or border stamp!