Many happy Mirkwood Designs templates users have asked how they can help support my Web site. You can securely use your PayPal account or any major credit card. If you cannot make a monetary donation, I would appreciate your prayers. I thank you for your consideration, and may God bless you!

If you are not comfortable donating online, please click here for my snailmail address.
Folding Fan Card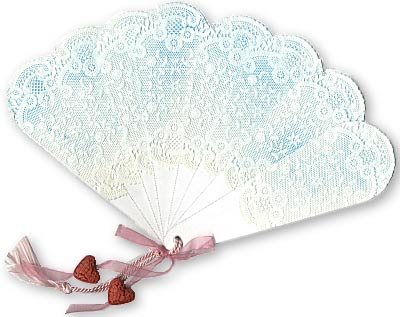 Design idea: Create a lovely Victorian fan. Use off-white card stock and stamp with your favorite floral stamps. Embellish with bits of lace or paper doily. Secure a lovely tassel to the bottom.
---
Note: You might want to make a prototype to get a feel for how the fan is assembled before you use good card stock.
Supplies:
2 pieces of fairly stiff 8.5 x 11 or 9 x 12 card stock
12 inches of 1/4-inch ribbon (very soft ribbon such as silk is best)
Glue or adhesive to attach the ribbon to the card stock
Tassel or ribbon to hold the fan together at the bottom
Other embellishments as desired, such as rubber stamps, embossing powder, lace, and so on
Fancy edging scissors (optional)
Instructions:
Use a photocopier to enlarge or reduce the fan blade template to suit your needs. I suggest that you start with a 6-inch blade.
Cut six to eight blades (eight 6-inch blades will give you a half-circle fan).
Punch holes at the marking in the narrow end, making certain that each hole placement is exact.
On the back of each blade mark an "X" at the location of the "X" on the template.
Stamp and embellish each blade as desired. Edge the top of each blade with edging scissors, if desired.
Attach a piece of ribbon or a tassel through the hole using a lark's head knot (a simple knot will do).
Turn the fan to the wrong side and lay it down horizontally on your work surface with the narrow end on the right.
Moving from left to right, spread the blades out evenly so that there is no space between the blades. (When you are done, the topmost blade should be to your right.) You might want to use removable tape to secure the fan to your work surface so that the blades don't move during the next steps.
Glue one end of the ribbon to the "X" on the top blade.
Carefully continue gluing the ribbon to the "X" on each blade. Allow to dry completely.
Fold the fan closed. The ribbon will fold up between the blades.

Copyright 1999-2009 Mirkwood Designs, a division of ruthannzaroff.com
These templates are free for your use to make craft items to give or sell, to use for teaching purposes, or for submitting projects to magazines.
I would appreciate it if you provide a link to my Web site.
The templates themselves may NOT be auctioned, sold, or published in any way without my permission.